by Herbie Miller (Philadelphia Presbyterian Church)
In today's post, we travel to Caesarea Philippi in northern Israel. The site of Peter's confession that Jesus is the Messiah, Caesarea Philippi was also home to an active sanctuary to the Greek god Pan. Join me as we consider how this historical background helps us better understand Christ's mission for us in the world.

A Galilean Sunrise
On our ten-day pilgrimage to Israel, we spent the first half of our trip in Jerusalem and the surrounding areas. For the second half, we stayed in Tiberius, an ancient city of 47,000 people on the western shore of the Sea of Galilee. Whereas Jerusalem at times felt busy and cramped, Tiberius offered a much slower pace and wide-open spaces.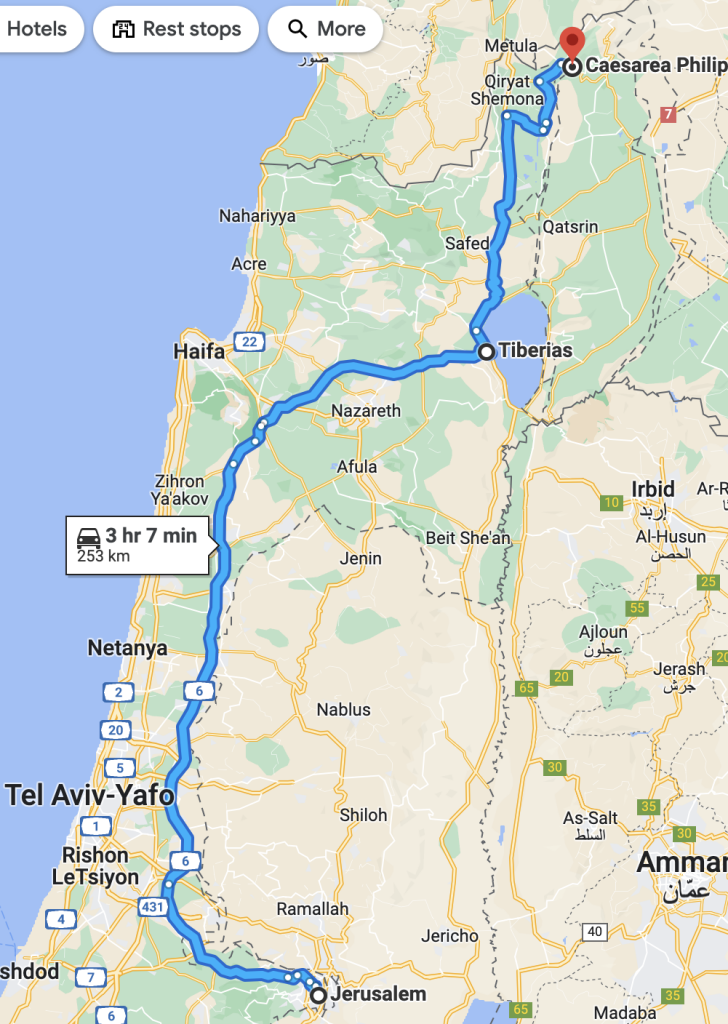 In Tiberius, we stayed in the Emily Hotel, a boutique hotel a few hundred yards from the Sea of Galilee. From our room's balcony we could look east and see both the sea and the mountains behind it, which are in Jordan.

On Wednesday, July 6, I woke up at 4:15am in this comfortable hotel and couldn't get back to sleep. Our trip was ending in a few days and my exhausted body should've been craving sleep. But that wasn't happening. So, I decided to make the most of my time and catch a nice sunrise from the roof our hotel. Rising before the sun, I only saw a dark sea and the rough outline of the mountains behind it. As I waited for the sun to make its appearance, I relished the cool 70-degree air, slight breeze, and quiet —save for the sounds of the few vehicles making their way up and down the street between my hotel and the sea.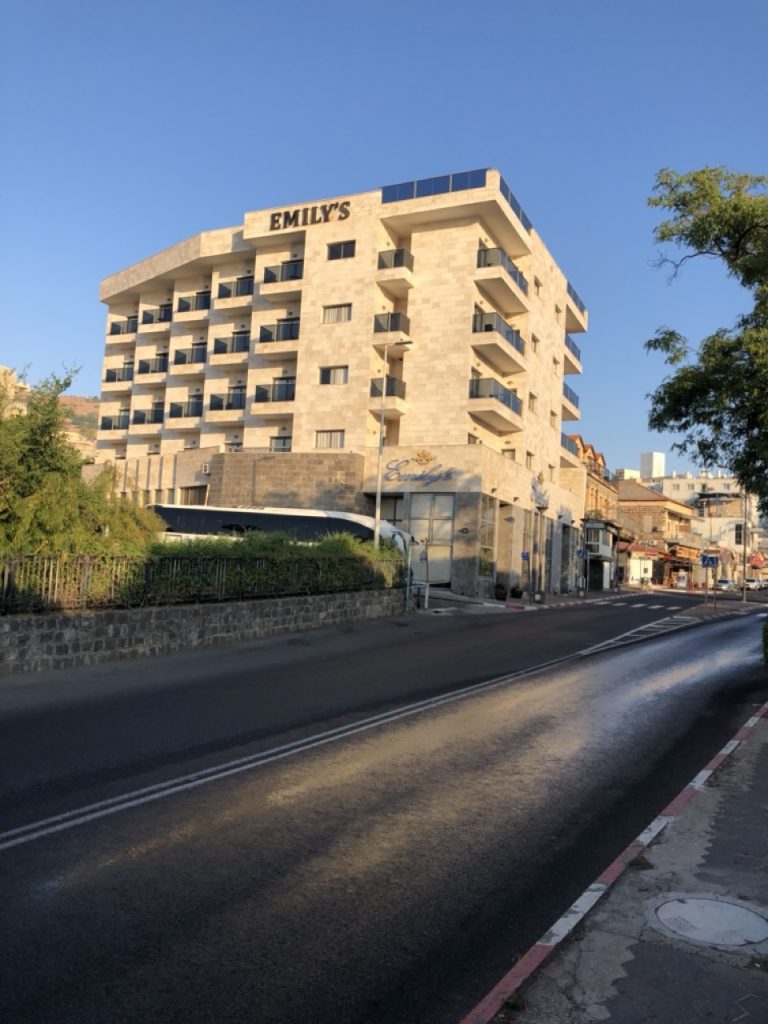 By about 5:00, the eastern horizon's color had subtly changed from the dark black and gray it had been when I'd woken to a light blue and orange. Drawn into the beauty of God's artistry in the sky, I watched the sun rise. Because of that morning's cloud cover, I only glimpsed the sun for a few short minutes before it became shrouded by clouds. But that sunrise is one I'll treasure.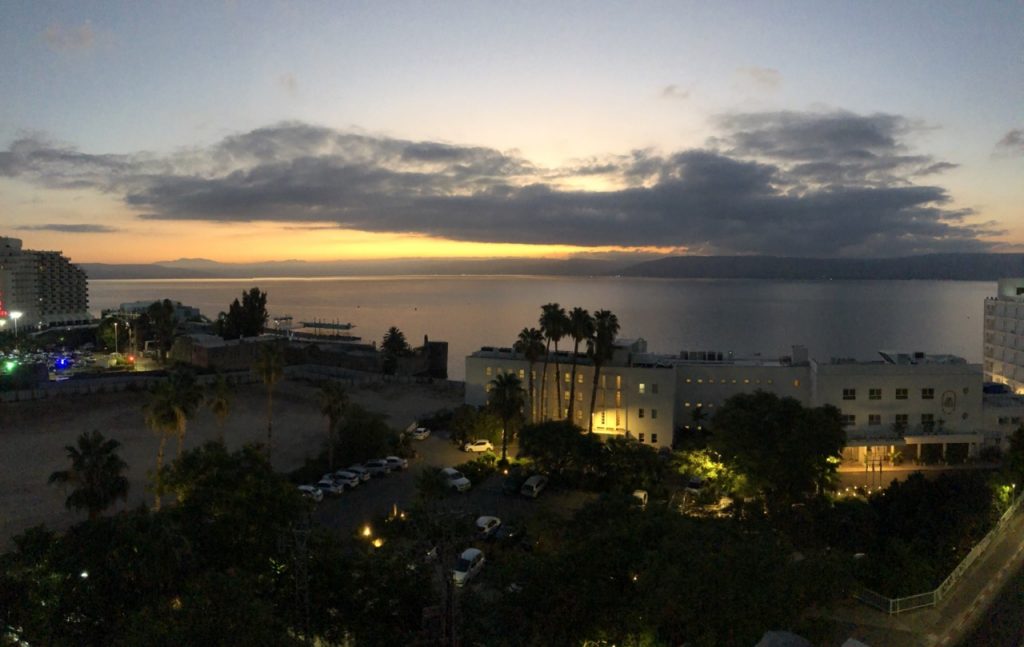 My experience watching that sunrise makes me wonder how many times Jesus watched a similar sunrise when he was staying in Capernaum by the Sea of Galilee. How many times he'd been unable to sleep and decided to catch a glimpse of God's handiwork. Like each of us, I'm sure in the quieter moments of Jesus' life He spent time praying and thinking about the plans God had for His life. He probably also probably wondered how well the crowds understood who He was and the nature of His divine mission. 
The Gates of Hades
There's one story in the Gospels of Matthew, Mark, and Luke in which Jesus asks His disciples essentially, "What are people saying about me?" In Matthew's account, we read a story about Jesus researching public opinion by asking His disciples a direct question while they were the region of Caesarea Philippi (about 45 miles north of Tiberius): he said, "Who do people say that the Son of Man is?" (Matthew 16:13). To which Simon Peter responded, "You are the Messiah, the Son of the living God." Jesus affirms Peter and tells him that on this rock (the confession Peter makes), Jesus will build His church "and the gates of Hades [hell] will not prevail against it" (Matthew 16:18). This beautiful and theologically foundational exchange between Jesus and Peter is important because of what it communicates about the church and God's protection over it. And when we study this passage in the context of its geographic location in Caesarea Philippi, we can have a deeper appreciation for the significance of Jesus' words.

The day I woke up at 4:15, our group drove to Caesarea Philippi. In Jesus' day, this region was a cross-section of religions and nationalities. Jesus would've encountered men and women who worshipped Roman and Greek gods and goddesses on a regular basis in this region.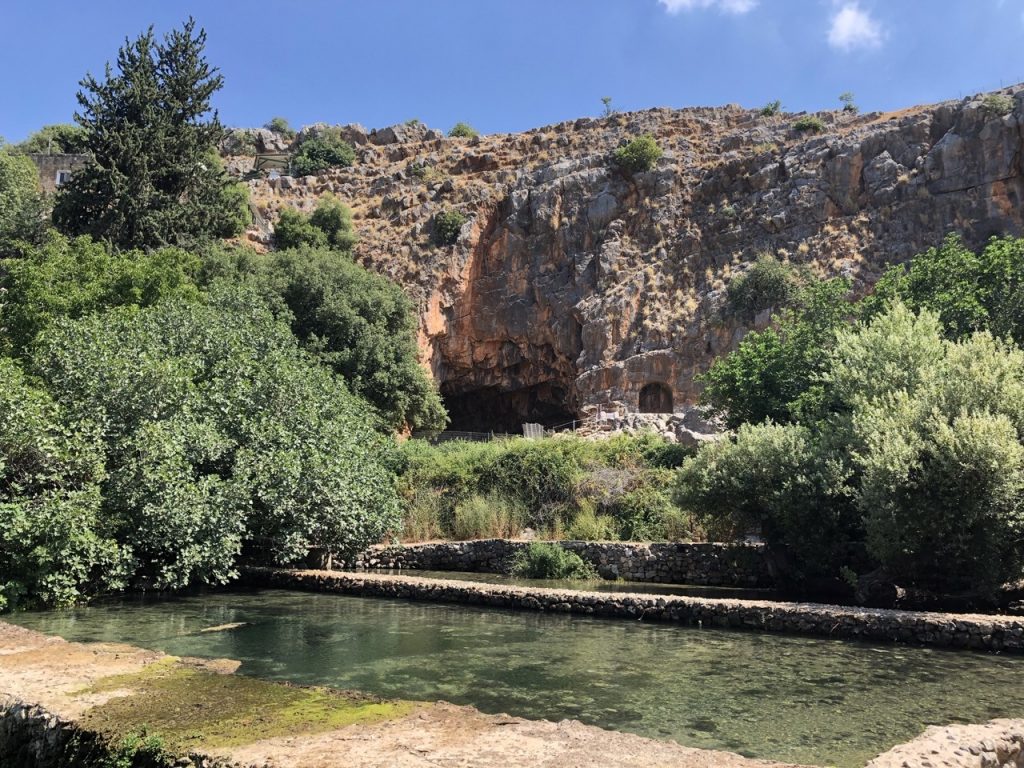 Our trip to Caesarea Philippi took us to the Banias Nature Reserve. This nature reserve includes the ruins of ancient temples to Greek and Roman gods and goddesses. The word "Banias" is related to the word "Pan," the god of the forest, shepherds, and flocks. And this nature reserve contains the ruins of what in Jesus' day would have been a large sanctuary to the god Pan. The picture of the large cave in the rock face is the place where Pan's sanctuary was located when Jesus' was alive.

Scholars have reconstructed what they think this temple and the other shines near it would've looked like. At the far left of the painting, you'll see how the Temple of Pan was situated in front of the cave's entrance.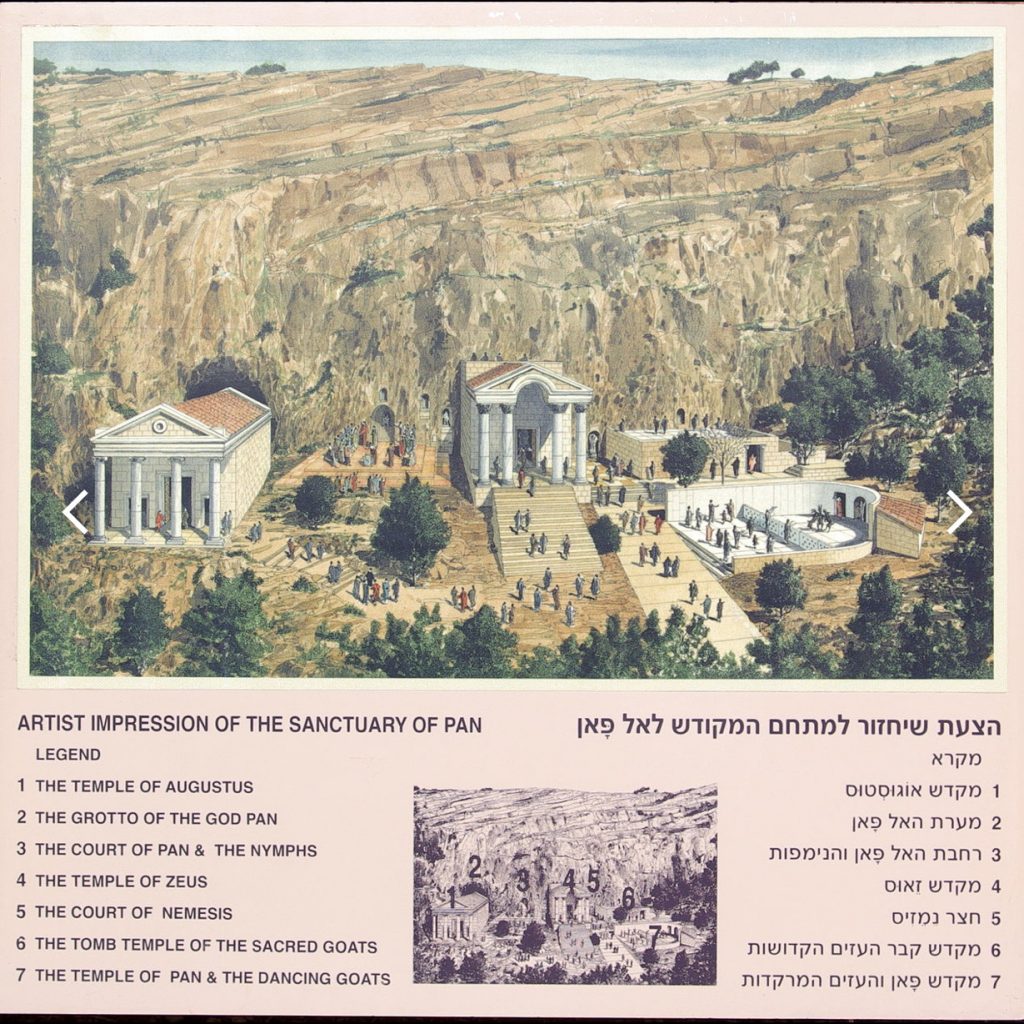 In the ancient world, this cave was known as the Gates of Hades, because of both its depth and the belief that it was the entrance to the underworld. Here at the Pan's temple, officiants made sacrifices of goats and temple prostitution was practiced. When Jesus went to this region with his disciples—raised as they were in the morals and ethics of ancient Judaism — you can imagine how uncomfortable they would have felt.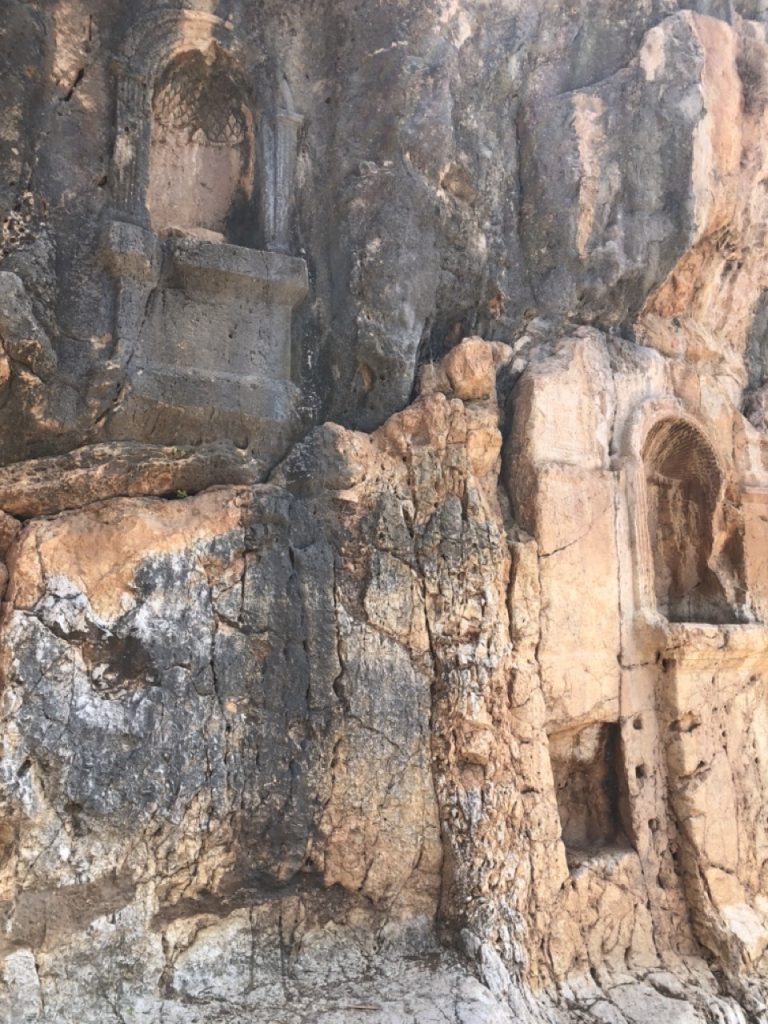 Visiting the Banias Nature Reserve and learning about how this was a place of pagan worship in Jesus' day caused His words to resonate inside me in a new way. When Jesus asked Peter and the disciples who people said He was, He was doing so in the middle of a region known for its pagan worship. Jesus chose to reveal His messianic identity to His disciples in one of the most uncomfortable spaces for Jews in ancient Palestine. 

Getting Comfortable Being Uncomfortable
In His life and ministry, Jesus was completely comfortable interacting with people of faiths and social backgrounds different from His own. He loved and enjoyed the company of people who never would have been accepted in mainstream Jewish homes of the day. While He never compromised His core convictions, Jesus was at home with people who didn't have homes.

And I think Jesus' decision to reveal his Messianic identity in a place of pagan worship and not say in the Jewish Temple courts in Jerusalem is instructive for Christians today. What if God is calling us out of the places that seem most comfortable to us and into spaces that make us uncomfortable? What if we are being called to share Christ in a place people would least expect Jesus to show up? Jesus wasn't afraid to go into these spaces. Not only was He unafraid, He was comfortable. What if He is asking us to get comfortable in the places that make us uncomfortable?